All our Garden Studios are priced per square metre of external base area – whatever the design you are considering.
Included in the price is the Studio, ground works and installation (for projects up to 150 miles from LE14 4BU).
All our Studios are fully insulated, plastered, decorated, double glazed, wired and damp-proofed.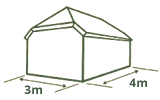 An example for costing your studio …
3m x 4m Unit = 12 sq. metres
x £1,200
= £14,400
Our current price is £1,200 per sq metre.
A deposit of 30% along with your confirmation of order will secure your place in our order books. The balance will be due on completion of delivery.

Click here for Planning advice